Music
LATEST MUSIC NEWS>>>>>>>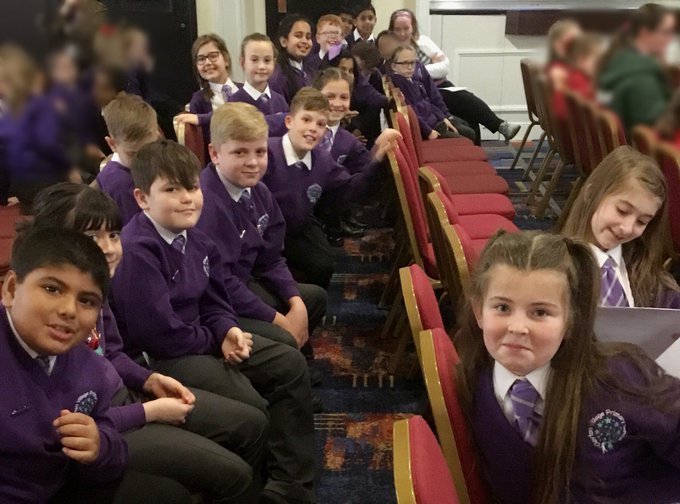 On Wednesday 13th November, our choir enjoyed performing at the Bradford Mini Proms.
Our choir are due to perform at Clayton Dickensian market on Saturday 7th December.
At CVPS, we love music because it opens the doorway to creative expression.
We want our children to have:
A love of music.
A wide and rich musical experience.
The opportunity to learn a musical instrument.
A belief that they can.
A bank of musical knowledge and skills to experiment, invent and create their own musical works of art.
Opportunities to perform for a variety of audiences and to see live performances.
A belief that there are no barriers to music – anyone can be a musician.
The courage to find their own rhythm!
At CVPS we believe that all of our pupils have the potential to be talented musicians. We aim to provide children with a range of inclusive opportunities to discover and develop their musical or dramatic competencies, cultivate their cultural understanding and establish the foundations of essential life skills, such as expressing oneself clearly and confidently. By the time they leave CVPS, our children will have been equipped with this knowledge and understanding as well as having an appreciation of a breadth of musical forms.
We aim to incorporate opportunities for music across the curriculum. For example, we use songs linked to topic to help children understand key concepts. Music is a huge part of our day at school. As well as teacher-led music lessons, we play a wide range of different musical styles in the school entrance, in the hall at lunchtimes and during lessons for relaxation and to aid concentration. Music is used to enrich the SEND curriculum for our pupils who require it. We have a weekly whole school singing assembly and Years 3 and 4 have weekly samba drumming sessions. Our increasingly popular choir rehearses twice a week and are being quickly booked up for a number of performances.
Discreet music skills are taught in EYFS and Key Stage 1 through singing, chanting, rhyme and percussion. Throughout Key Stage 2 the specific skills of music notation, appreciation and history of music is developed.
Singing Assembly
We are currently learning these songs during our weekly singing assembly:
Three little birds link
True colours link
Let it Snow, Let it snow, Let it snow