Writing


At Clayton Village, we believe that all pupils should be able to confidently communicate their knowledge, ideas and emotions through their writing.
The CVPS curriculum for English aims to ensure that all pupils:
can write down ideas fluently with accurate spelling and legible, cursive handwriting;
have an increasingly wide knowledge of grammar;
are able to write clearly and accurately by adapting their language and style in a range of contexts, purposes and audiences.
We use our English curriculum to broaden children's knowledge, vocabulary and experiences across the curriculum. Children are provided with opportunities and purposes that inspire them to write. They discuss and share ambitious vocabulary so that they have a variety of quality language that they can use to effectively and coherently communicate both orally and written. Following our school aim of 'Aim High', we teach our children how to improve their writing by planning, editing and redrafting.
At Clayton Village we teach the children to write in a cursive style from Reception. When your child first comes to school, they will learn to form every letter with an entry and exit stroke.
This is a solid foundation for teaching joined handwriting later on. Children are taught that every letterstarts on the line. Next we begin to teach digraphs and trigraphs as joined letters. The first being
You can support your child at home by encouraging them to trace over the handwriting sheets provided on a regular basis. Reluctant writers are often more willing to try if you give them different colour pens to trace over. You can even enlarge the letters and trace over using paint, chalk, using a bottle of water with a sports cap, or even tracing over the letters with a toy car.
Constant repetition is the key, emphasising the correct entry and exit strokes every time. It is essential that your child gets into good habits early on and this includes having the correct pencil grip.
One of the advantages of the cursive style is that you can quickly identify when a child is forming letters incorrectly. For example trying to start a
at the bottom and moving clockwise, rather than starting with the entry stroke and then moving anticlockwise from the top of the letter to the bottom.
Although the cursive style can seem quite laborious to start as it takes slightly longer to write each letter separately, you will really see the benefits when your child starts to join fully towards the end of Year 1 and in Year 2. The cursive approach has been very successful in our school.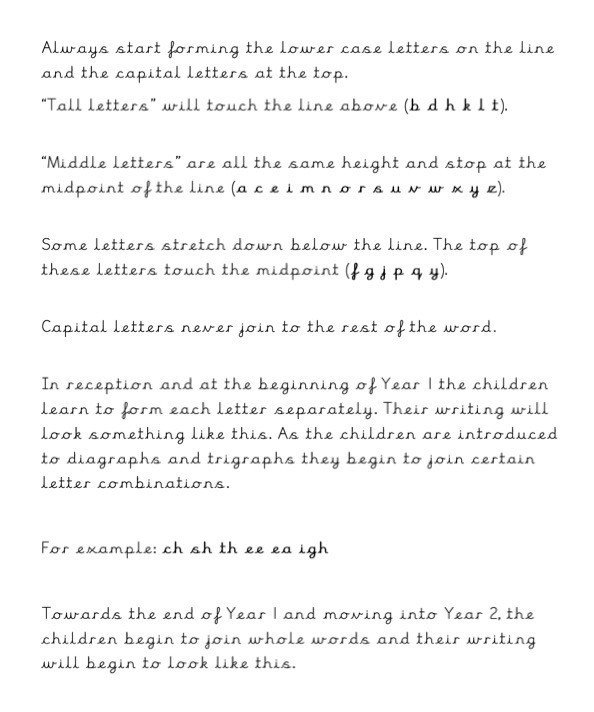 Downloads:
Cursive handwriting with arrows to indicate correct formation