Childrens Roles
Roles and Responsibilities 2022-2023
Our children do a great job each year by supporting the running of the school through the roles that they undertake.
Head Pupils
Role & responsibilities:
Responsible for promoting Clayton Village Primary School at every opportunity.
Job roles:
Representing the school when required (Sports Day, Meet the Governors, Visitor tours, Open Evening, Ofsted).
Working with staff and School Council to facilitate running of events.
Acting as a positive role model.
To interview children throughout the school about the different subjects, collate information and make presentations to Governors regarding outcomes.
Meet with School Council to discuss any issues and needs that arise to do with the school.
Meet with Mrs Rahim regularly to discuss impact of new initiatives and make suggestions for improvements.
Qualities/Skills required:
A good school leader.
Good relationships with pupils of all ages – able to encourage them.
A positive role model – good attitude towards every aspect of school life.
Able to recognise other pupils' achievements throughout the school.
Clear and open communication with staff and children Clayton Village Primary School.
Always there when required.
Commitment:
An on-going commitment to be a leading role model with good school attendance, excellent behaviour, excellent communication skills and 100% effort in all that you do.
Prefects
In Year 6, children are able to apply in writing to become a Prefect. Interviews take place and the children have to provide a presentation to their peers on why they would be suitable for the role. When appointed, Prefects ensure children display outstanding behaviour and provide guidance to vulnerable pupils.
School Council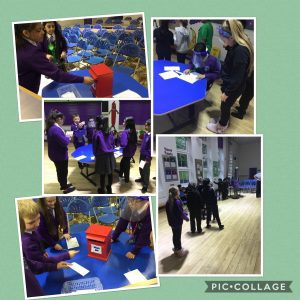 Elections for the School Council are held in September. The School Council is made up of two councillors from Year 1 – 6  (a girl and a boy) who have nominated themselves to represent their class. Then each class vote for the girl/boy who they think would make the best representative for their class. Voting is done using ballot papers and posted into a ballot box the votes are counted and winners announced in assembly. The councillors represent their class and are the 'pupil voice'.
They contribute to decisions made in school such as uniform changes, wearing pumps, fundraisers, charity donations and have an input into policies such as behaviour.
The last Council meeting held was to decide on how we could support charities. We did this during Harvest by supporting our local food bank.